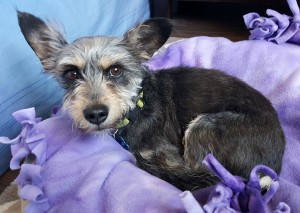 Laws, and common sense, limit the number of dogs that I can keep. I typically have around 10 dogs waiting to get into rescue. The more people who can foster a dog, the more dogs we can help and the more lives we save! Fostering means opening your home to a dog in rescue.
Why foster a dog?
Dogs in foster care are happier and more engaged. They learn and get used to living with people and sometimes other animals. This makes them more appealing for adopters and they will likely thrive faster when they finally find their forever home.
It helps you understand what it takes to take care of a dog without having to make a lifetime commitment right away. You'll also have the opportunity to find a perfect match for your household. Sometimes fostering first is recommended, versus jumping into an adoption that may or may not work for you.
Perhaps you don't want to adopt another dog right now, but you have the room and love to take care of an additional dog on a temporary basis. Fostering dogs is such a rewarding experience for those involved, that you might realize it is what you were missing in life!
How long?
Some of the dogs come into rescue with a lot of baggage, and need one-on-one care. They may be scared, they may be ill, or they may just need some time to adjust. Other dogs will take a little longer to find a home due to their age or their medical condition. Still others are little love machines who just need a place to rest up before going to a permanent home.
Foster dogs will typically stay at a foster home for about 4-6 weeks, depending on the interest out there and the needs they have. As we were explaining, pets that are a little older, have an illness, or those who are recovering from an injury or a traumatic experience sometimes need a little extra attention and might stay longer with you. We always try to provide the information necessary so that you and your new foster dog are comfortable and you know about how much of a commitment you are making.
Yours and our responsibilities
You provide the love and the food, and I will take care of the medical care. Dogs are quarantined (if needed, especially shelter dogs) and vetted prior to being placed into foster homes. This means that they have their shots, are spayed or neutered, and have been tested for heartworms. Your mission is to provide a clean, safe, and loving environment, as well as food, water, toys, attention, and appropriate shelter. Ideally, you also take them for walks and socialize them if / when you can. It's important that you monitor the dog for any medical and/or behavioral problems.
As with adoptions, we typically do a house visit and make sure the foster dog will be living in a good environment, and we always need to keep a foster application on file. If you'd like to foster dogs for Vintage Dog Rescue, please go ahead and fill out the application (link below). You can also send us your questions here.