1. Who are we? How did it all start?
We are a small all-volunteer group who rescue primarily Miniature Schnauzers. We are a foster-based group, which means we do not have a physical facility, but instead house the rescued dogs in homes.  The foster families are primarily people that have adopted a dog from us at some point in time, so we know them, we have been in their home, checked their vet references, and know how they treat their furry friends. We can trust them with "our" dogs. We place between 90 and 100 dogs each year.
We are an incorporated, IRS recognized charity, supervised by the State of Colorado. We began the rescue in August, 2002 after fostering for another rescue for several years. We chose Miniature Schnauzers because we were involved in the closing of a Colorado puppy mill, and fostered three dogs from that situation.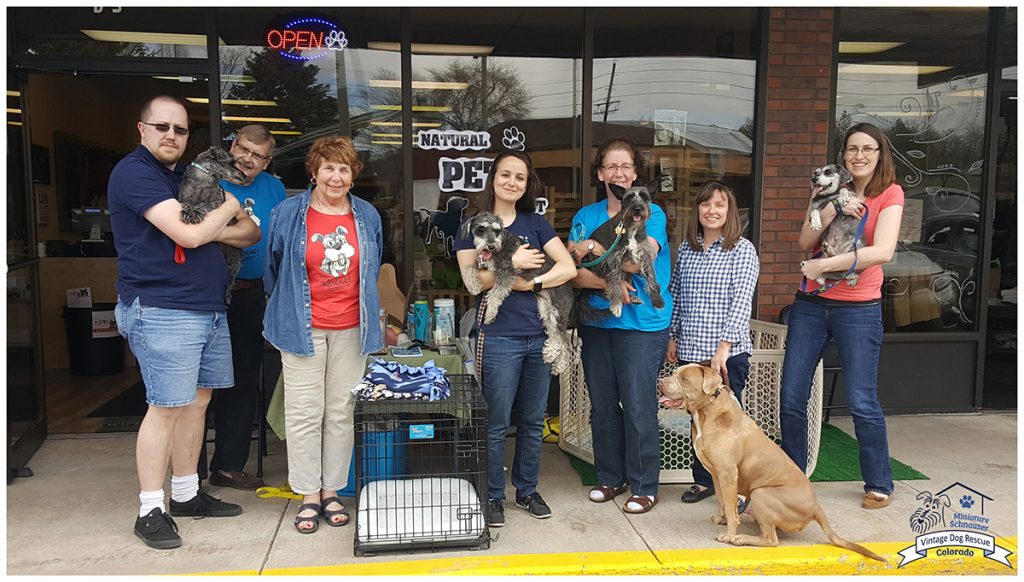 2. What kind of rescue is Vintage Dog Rescue?
Vintage means old. Our hearts are particularly with the older dogs, so in addition to puppies and adult dogs, we tend to take more of the older dogs who are often overlooked in a shelter. It breaks our hearts when senior dogs end up in a shelter because their people have to move into assisted living. Because we take a larger proportion of older dogs, some of our dogs have medical issues that come with age. We are lucky to have found many supporters who also love the seniors, and will foster these dogs for us indefinitely. We provide any needed medical care, and the foster provides love and food. (Let us know if you would like to learn more about becoming a foster parent!)
Dogs that come into our rescue stay with us until they are adopted into their "forever" home. Dogs are NEVER euthanized for space or time. Dogs are only euthanized at the vet if they are in pain that cannot be alleviated, have multiple major medical issues, or if they're serious bitters.
3. Which kind of dogs do we help? Do we only help schnauzers?
We rescue Miniature Schnauzers, Mini mixes and terriers that are under 20 to 25 pounds and are not predominantly another recognized breed. There are separate groups that rescue Standard and Giant Schnauzers, and most other recognized terrier breeds. We try to focus on Miniature Schnauzers because there are other groups that rescue predominantly mixes and because, over the 14 years of our work our adopters and supporters look to us for Minis. While we do take terrier mixes into rescue, we find that they usually spend more time waiting to be adopted.
4. Where do the rescue dogs come from?
Over 1/3 of our rescues come from owner surrenders, caused by moving into assisted living, moving into a location that will not permit dogs, divorce, job loss, or the dog's medical or behavioral problems. As you can see, most of these reasons have nothing to do with the dog. People sometimes think that there is something "wrong" with rescued dogs, but usually it is just a case of being in the wrong place at the wrong time.
Some of our dogs come from local shelters because they have illnesses or behavioral issues that the shelter is not equipped to handle. The shelter may not feel comfortable adopting the dog to the general public, for example terriers can be very active and may not be suitable for seniors or families with young children.
Some of our dogs come from surrounding states without Mini Schnauzer rescues. We often take dogs from rural (kill) shelters where there is less demand for small house dogs. Some shelters don't have the funding to treat medical issues the dog may have and transfer them to VDR rather than euthanize the dog.
5. Where is Vintage Dog Rescue located? Can you visit?
We are based in Littleton, CO. However, we are a foster-based group, which means we do not have a physical facility, but instead house the rescued dogs in foster homes. Only once your application has been reviewed and approved, you will be contacted by telephone to set up a home visit with the dog/s you were interested in meeting that might be a good fit for you and your family.
6. How does the adoption process work? How and when do you actually meet the dogs?
You apply. We approve your application. We call and set up a meeting time at your house. We come with the dog/s you wanted to meet. You decide if you'd like to adopt and pay the adoption donation / fee. Actually, we have all the info right here, in our Adoption Process page.
7. What are our adoption fees?
A minimum donation of $350 for dogs under 6 years | $275 for dogs 6 to under 1 | $225 for dogs 11 and over, as well as special needs dogs, to cover veterinary care, including dental care, spay/neuter surgery, shots, vet visits, heartworm testing and micro chipping, is required and will be payable at the time of adoption. These fees are designed to cover medical care, spay/neuter, shots, vet visits, etc. while the dog is in rescue.
8. How can you help us?
Please, check out our How You Can Help page to find out more about spreading the word, fostering dogs, and donating to the rescue. Everything we do is because of you, so thank you!
9. Are donations tax exempt? Do we accept item donations? What kind?
Donations are often tax deductible, and all donations go directly to pay the vet bills. Find out more at the bottom of this page. As for item donations, ???
10. You have to give up you dog. Can we help?
If your dog is a Schnauzer or a small Terrier-type breed, we can help as long as timing works and we have space. We would love to help all breeds, but our followers enjoy this type of dog, so they tend to get adopted faster, reducing the amount of time they spend in rescue. There are other breed-specific and all-breed dog rescues that are happy to help too. If you think we are a good fit for your dog, please fill out our surrender form (click here) so we can get to know him/her better.
11. Does Vintage Dog Rescue take stray dogs?
If it's a Schnauzer or small terrier-type dog, we will help as long as we have the space.
12. Does Vintage Dog Rescue take dogs that need a temporary home?
No, we cannot take care of dogs in temporary situations, as they take up a space that an adoptable dog would need.
12. Do we guarantee breed, age, and health in our rescue dogs?
No, as most of the time we don't know where they come from and what their experience has been. We do veterinary checks and make sure they are vaccinated, heartworm-tested, and spayed/neutered. The age is typically an estimate from the vet, but never a guarantee.
13. If things don't work out with the dog you adopted, will you get a refund?
We will always take the dog back and will return the adoption fee at our discretion. However, please be mindful when you finalize the adoption that you choose a good fit for you and your family.
14. How can you adopt? Do you have more chances to get a dog if you apply before anyone else?
Rescue is not a first-come, first-serve situation. However, it always helps if we have your application on file, even if you do not know which dog you would like to adopt yet. You can contact us at any time after you submit your application to let us you know in which dog/s you're interested. We always try to find the best fit for the dogs we rescue.
15. Do you need to submit a new application each time you're interested in a new dog?
No, please just contact us if you see a dog you're interested in after you have