Below is a selection of success stories at Colorado's Miniature Schnauzer Vintage Dog Rescue. To see more recent "Happy Tail" stories, please visit our Adopted Dogs section. You can also see our available rescue dogs here.
"Miracle"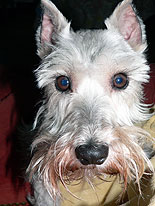 Miracle was a little white male who barely made it out of a shelter because he was heartworm positive. He was a very loving little guy who just wanted attention. He would sit on your lap for hours if you let him.
We took him into rescue and had him treated for the heartworms. The current practice is to treat the dog to kill the adult heartworms and then wait about 6 months to retest. In the meantime, you give them the monthly heartworm pills to keep killing any new heartworms. The problem is that the drug company that made the treatment has discontinued production of the medication, making it very difficult to get. Many vets in Colorado don't carry the medication because heartworm is less prevalent here. We were lucky to be able to buy the treatment for Miracle from a vet in Kansas.
You can imagine that it is difficult to find someone willing to adopt a heartworm positive dog. Miracle was adopted by an older lady who lives with her son and daughter-in-law in the hills north of Boulder. They are enjoying Miracle and he is enjoying being part of a family.
"Deployment" Rescue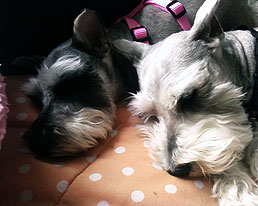 Deployment is hard on families, and hard on their dogs. We saw a listing on Craigslist from an Air Force serviceperson being deployed to Iraq. We made a call to the serviceperson, to offer rescue help. A week later, we got a call back from the serviceperson, asking to relinquish two Mini Schnauzers to rescue. When we met the serviceperson to pick up the dogs, it was obvious how difficult this was. This was a person who really loved his dogs, and was heartbroken to have to give them up. He gave us lots of information about the dogs, begging us to find them a home together and one with children to play with.
The dogs came with a couple of beds each, food, lots of toys and even their heartworm medicine for the rest of the year! These were two loving, well behaved little dogs who really didn't understand what was going on, and why they weren't with their family any more.
Luckily there was a family looking for a pair of Minis. There was even an older child in the family. The dogs made the transition well and have settled into their new home very well.
Other Success Stories
Thank you all for helping us place well over 1,000 wonderful dogs in 13 years. We have placed Miniature Schnauzers, Cocker Spaniels, and a variety of small-breed mixes in great homes all over Colorado.
Happy Dogs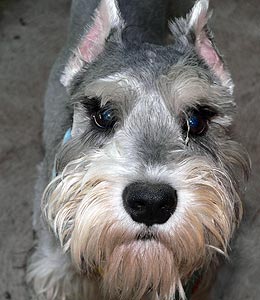 We placed Chrissy, a small Miniature Schnauzer who was hit by a car. She came into rescue from a local shelter with road rash all over her little body and a broken leg, but she had a great personality. We fixed her leg, and now that she is healed, Chrissy, renamed Bode, is living happily ever after in Colorado Springs.
We placed Mackenzie, another small Mini who was so scared that she was rejected by another rescue organization as unadoptable. She came into rescue full of mats and fleas, but Mackenzie is now living happily ever after with a great family here in Denver.
We placed Mac, an 8-year-old male Mini who was surrendered by his owner because he was having accidents in the house. The vet discovered that poor Mac had 8 large bladder stones. After surgery, Mac was adopted to a wonderful home in the mountains.
We placed Hobbs, a 6-month-old Mini who was taken to a local shelter to be euthanized because the family didn't want him any more. This wonderful little guy is now playing with two greyhounds in a home where he is the second adopted Mini.
We placed Katie, a 5-year-old Cocker who came into rescue with kennel cough and a cherry eye. Katie is now a sophisticated city dweller living in a high rise in downtown Denver and working part-time!
We placed Meg, a large 2-year-old terrier mix whose eyes haunted me as she waited for rescue in an outdoor pen at a rural shelter. Her new people bought her Christmas presents even before they adopted her when they saw her on a local "critter tree."
We placed Coal and Bridget and Stacey, who were rescued from puppy mills and came into rescue afraid of everything — stairs, people, loud noises, and raised hands. They have been adopted into homes where they know love and warmth and good food.
Thank You
I want to thank all the people who help me care for and adopt these wonderful dogs. Thank you to Dr. Kim Crawford and all her staff at Chatfield Veterinary Hospital, who makes sure that the dogs are healthy before they are adopted. Thank you to Sarah and her staff at Shag 'n Wag who bathe and groom the dogs to make them more adoptable. Thank you to Wendy who comes every day to let the dogs out for a potty break at lunchtime. Thank you to Sharon and Pearl and Donna and Carolyn and Lisa who take dogs into their home and love them and care for them until we can find forever homes for them. Thank you to Jenni who helps me put pictures of the dogs and their stories on the web sites. Thank you to Lois who completed the paperwork and donated the fee to get Vintage Dog Rescue registered as a charity with the Internal Revenue Service. Thank you to all those people who picked up and transported dogs for me.
If you adopted one of my rescued dogs, thank you again. I appreciate all that you do to care for that wonderful four-legged family member. I look forward to hearing from you. I love to get emails, letters or pictures telling me how much you enjoy your dog. I hope that this year brings you happiness and love, even in these uncertain times.