ORDER NOW! A fun, custom portrait of your pet. You will receive 2 professional prints, ready to be framed (8.5×11 and 5×7) and 2 digital pictures (including a social media profile image so you can show off your furfriend!)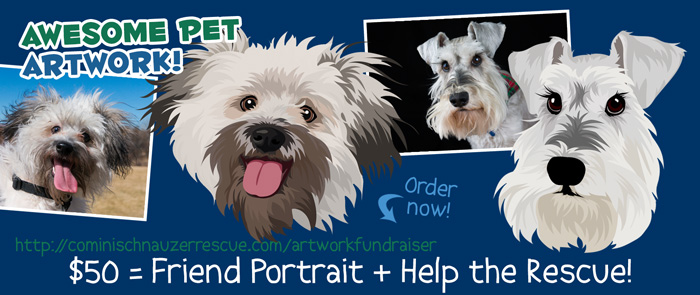 Please fill out the form below to place your artwork order, and upload your image (or images, if more than one pet). Make sure the image/s provided are high-resolution. The better the original picture, the better the artwork will be. Once submitted, you will be re-directed to the payment page. We will aim to deliver the first round of artwork before 12/24/2017. Thank you for your support!


Don't forget to select "I'm not a robot" and follow instructions if prompted.
PLEASE, CLICK SUBMIT WHEN THE FORM IS COMPLETED.
---
Submitted? Time to send your payment. Don't forget to click "Special instructions or additional info" and type Artwork and add the name of the pet. This will allow us to link the payment to your order more easily. Also, please enter the correct total amount.
1 pet portrait = $50 | 2 = $100 | 3 = $150 | 4 = $200 | 5 = $250 
Thank you!